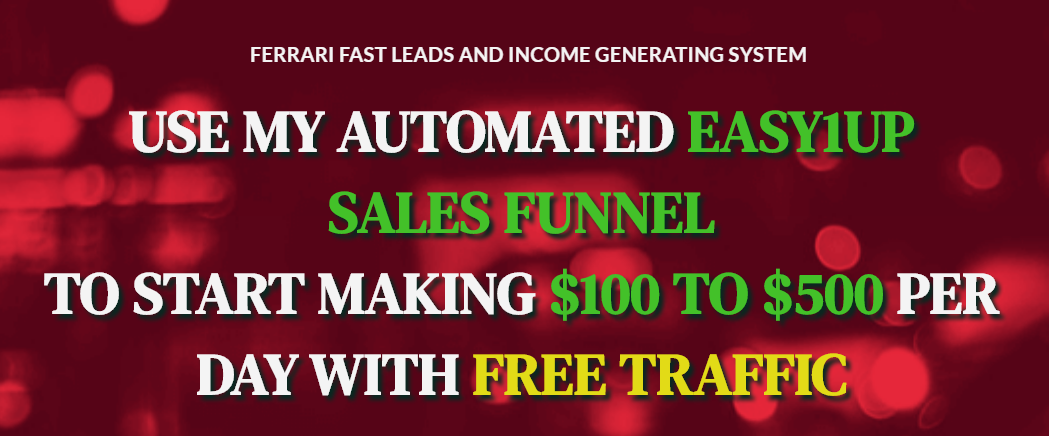 FROM THE DESK OF GENA BABAK
I am a full-time online marketer and a Solo Ad Vendor. And all my traffic clients ask the same questions:
what is the best business opportunity to promote?
what is the best automated sales funnel to use
how can I use free traffic to get more leads and sales?
This is why I created this Automated Sales funnel for Easy1up business opportunity and a Training program which I called FROM ZERO TO $100 PER DAY IN ONE WEEK OR LESS… ENJOY!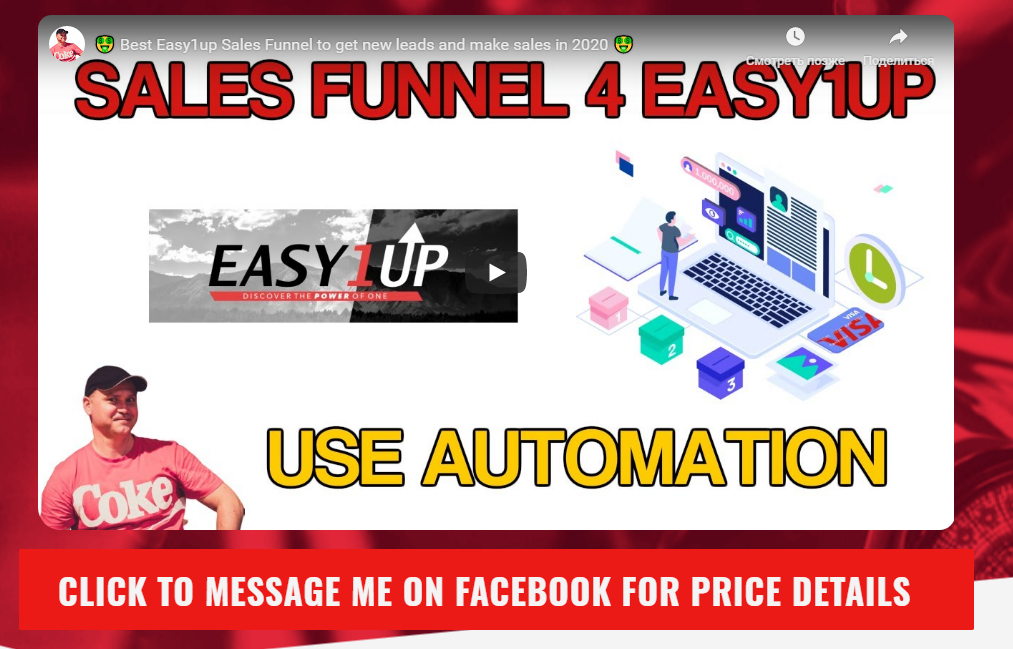 WHO IS THIS FOR?
This is for you if you say YES to any of these questions:
Are you going nuts trying to get new leads for your Easy1up affiliate program?
Do you have lots of new leads but still not getting sales daily?
Would you like to let the automated sales funnel to do the telling and selling for you?
Would you like to use FREE traffic strategies to get new leads and sales daily?
Would you like to get access to step by step training lessons showing you the way to success?
Would you like to see the shortcut to success – just 3 simple steps?
3 STEPS TO SUCCESS WITH EASY 1UP
To be successful with Easy 1up you need to use an automated video sales funnel. But what I am offering to you is much more than that.

This is what you will not need to do:
​No need to write articles for your blogs and websites ever again ​
No need to search internet for new money making ideas​
No need to build new sales funnels​
No need to create Email letters from scratch​​
NO MORE hard to follow, complicated training materials that makes pull you hair out
​Absolutely NO life-draining tech skills required to make my Profit Funnel and Free Traffic Strategies work for you 24/7 and on autopilot!
This is what you will love:
Learn How You Can Drive a Ton of Traffic Into Your New Funnel or to any of your affiliate links!
​Get FREE TRAFFIC from Facebook, YouTube, Instagram, Google … when you need it fast!​​
Use Profit Funnel to Create Multiple Passive Income Streams on Autopilot! ​
Learn what you need to do Daily to Make Sales Daily!​
CREATE YOUR LAPTOP LIFESTYLE IN 3 SIMPLE STEPS: DFY Funnel + Free Traffic + Daily Action Plan
FREE TRAFFIC MASTERY AND BUSINESS AUTOMATION FOR EASY1UP MEMBERS