Read this article to learn How to get free traffic to your site using Facebook Dominator Strategy. Learn How You Can Get Free Traffic From Facebook on Autopilot 24/7.
FACEBOOK PAGE FOR YOUR SITE
We will use Facebook pages to get free traffic to our site. We will build a Facebook page with the aim to grow it to thousands of fans. And all of those fans will be from first world countries and they're hyper targeted and related to our niche. I call this FACEBOOK DOMINATOR Strategy.
STEP 1. SETTING UP FACEBOOK PAGE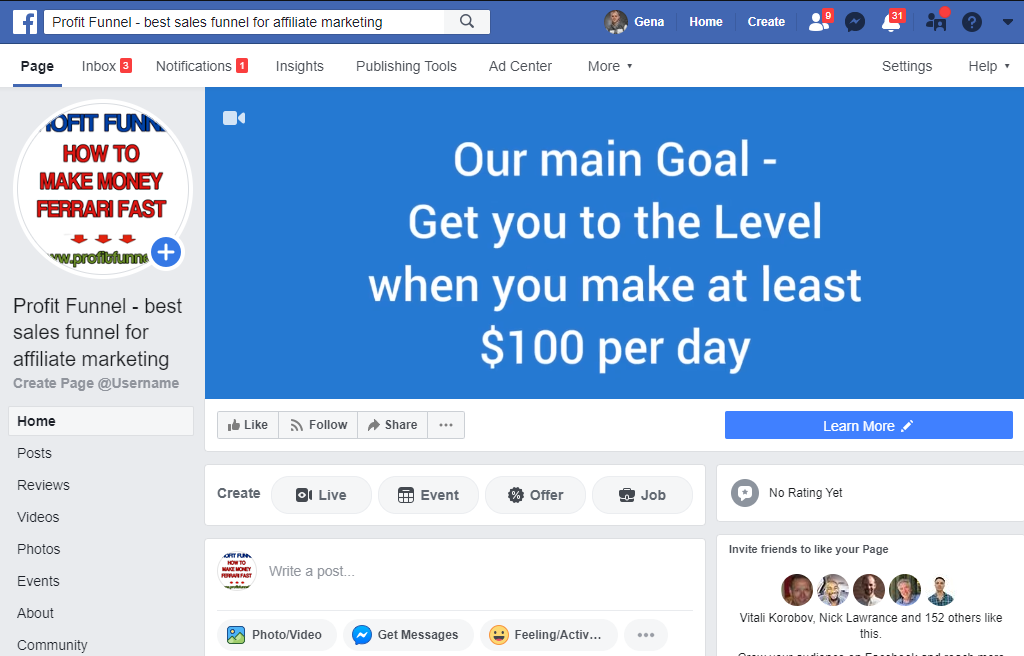 Yes, just create a Facebook page. Your page name should relate to your brand or site name and that make it obvious what your page is actually about. I usually add good image and even video to my Facebook Page Cover. And do not forget to set up your page url. It can be the same as your actual page name.
STEP 2. Adding followers and getting likes
The fastest way to get lots of targeted likes to your page is just using paid Facebook Ads. It is easy t do and it can be very cheap as well.
Free way. Just find Facebook groups that are related to your niche and that allow pages to join them. In my case there are lots of MAKE MONEY ONLINE and MLM groups to join.
So you just need to join several groups in this way and wait for awhile to be accepted into each group.
POST ENGAGING CONTENT!
Now it is time to post some engaging content on your page and share those posts with all the groups you joined.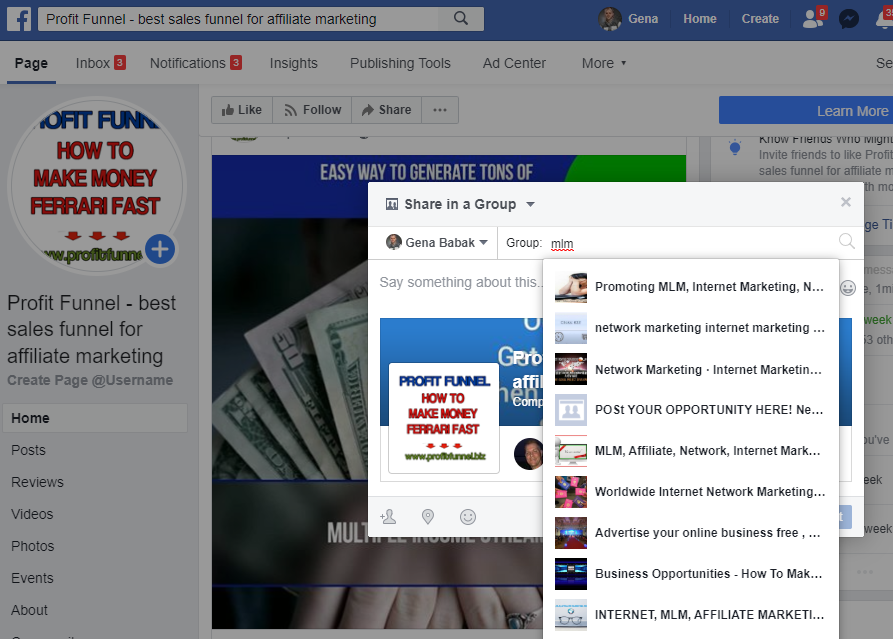 When you share your posts from the page to other group it will show link back to your page. Often you will start to get some likes right away as people people find your page inside of the group. But once you wait a little while and then come back to the groups you shared you info with.
STEP 3. USE FACEBOOK ADS!
This is easy to do – just go to the Ads Manager and create a new ad. We will use ENGAGEMENT type of ads and Page Likes. This will tell Facebook that our main goal from this ad is to get likes to our page.
Fro interest you may use your main keyword or your niche keywords.
Once your ad is approved you should start yo see likes rolling in right away. And the cost of like can be as cheap as $0.04 per like!

STEP 4. HOW TO POST ENGAGING CONTENT?
Once you have got a few likes on your page your next job is to post out some engaging niche related content to compel people to like , share and comment on your posts.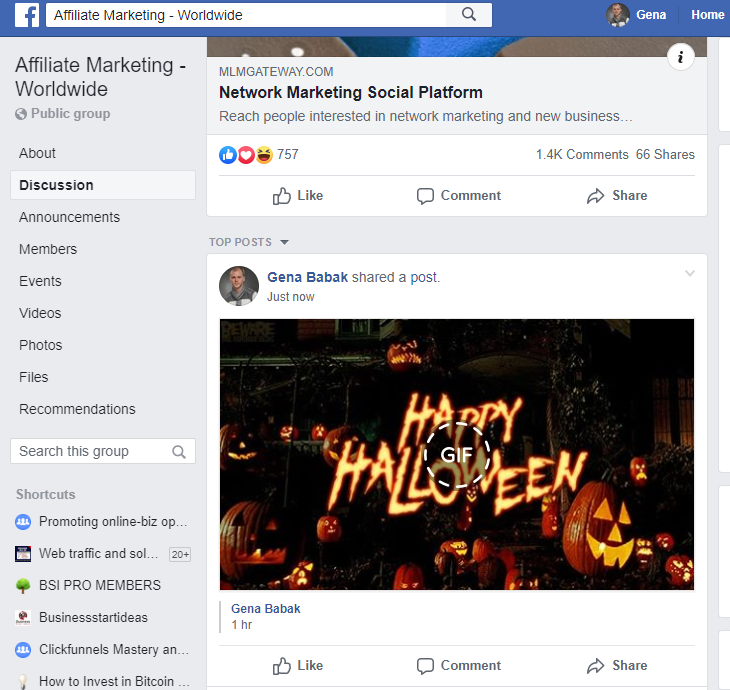 Use niche related quotes, videos, images, gifs and articles as well. Our goal is to build up enough images and content that will last you multiple months and then you can even start to recycle through your old content while putting out little bits of new content as well.
This is why you need to post content regularly: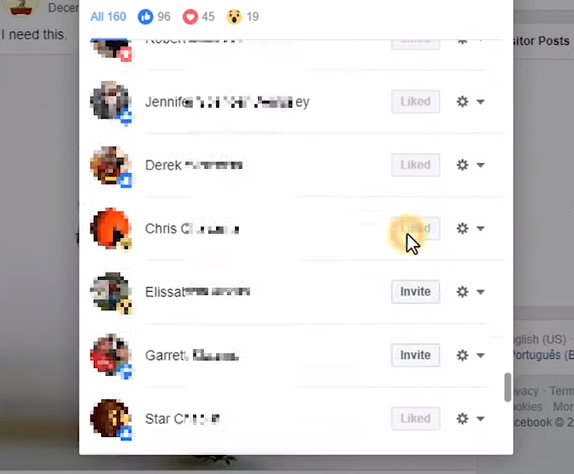 It keeps your page engagement up and as a result the more engagement you get the more exposure Facebook will give to your future posts. This means that when you do actually go to post out a link to your site you will actually get more attention to it because of all of your viral posts.
This helps with organic page growth so every time someone re-shares one of your pieces of content their friends will see it in their news-feed and there is a chance that they will then like your page too and after that you just may invite all those people who liked your post – invite them to like your page or join your Facebook group connected to the page.
Combine all of these tactics and you should have your first few thousand followers in no time at all.
STEP 5. AUTOMATION!
Step 5 is about automation we may use for your pages to manage a page a post new content on autopilot.
I recommend FPTRAFFIC tool
FPTraffic will help you find content, create your own engaging content, analyze your results, and optimize your social media efforts.
The hardest part of building a social media audience is consistently finding and posting content. It's also the most important part of any successful social media strategy!
Social Media Content Finder
With FPTraffic, it's easy! We have a proprietary Content Finder you can use to search through billions of photos, links, and videos to find content to post to your social media accounts.
Schedule with a Click
Once you find content you like, you can add it to your Scheduled Posts with a click of your mouse!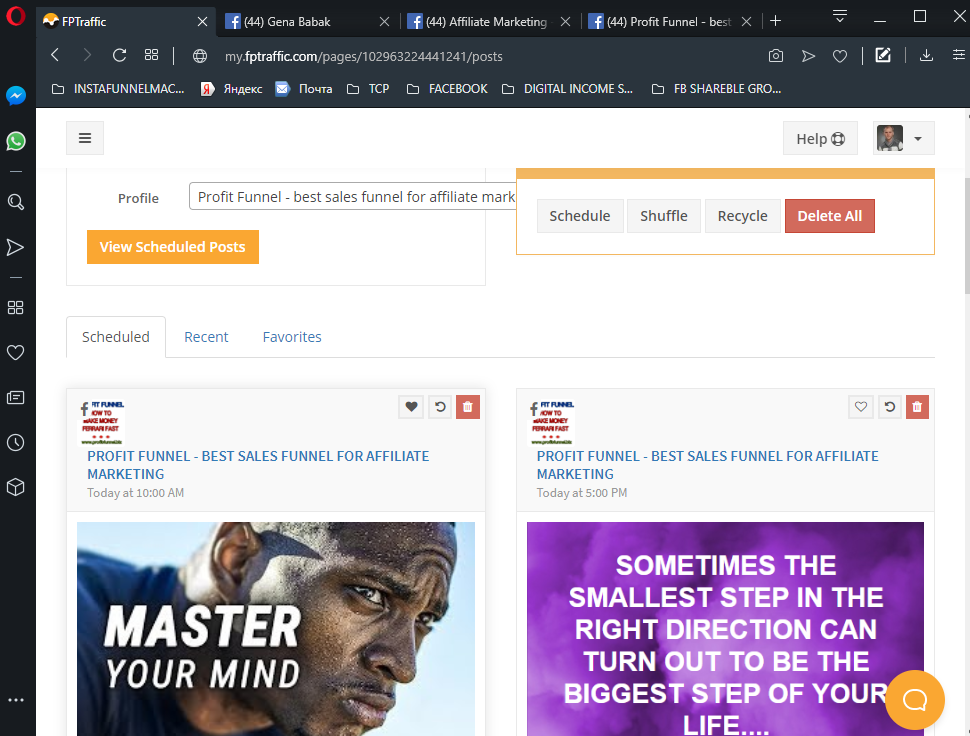 So just like that your Facebook page is fully automated so that you do not have to go in and post off manually every day.
STEP 6. Is cross-promoting your pages.
You can use this simple trick when you launch new pages on Facebook and this will help you to grow them massively for no cost at all.
It works by simply cross promoting content between your new pages and your existing pages to grow your new pages.
Let us say you decided to create a new Facebook page that is closely related to my existing page. So you start posting new content on this new page but you could also throw in a bunch of images and than you can repost this posts to your existing page and people will start liking posts from new page.
STEP 7. SET UP A FACEBOOK GROUP!
Step 7 is setting up a Facebook group. You will use your Facebook group as another place to post your affiliate links and work with your audience. Groups can be quite viral too and attract a ton of new members organically.
This will happen as group members start invite their friends to join the group and as well as your group begins to show up in the suggested group section on Facebook.
You can invite people that like your page content and all your friends to this new group.
Make a post on your page telling people to join your group. Then you can just use your group to reshare content from your page as well as post out links to your website or funnel or affiliate offer you promote.
STEP 8. POST YOUR LINKS
Now you are ready to post links from your website to your Facebook pages giving people possibility to like your new post and clikc the link to buy your affiliate offer.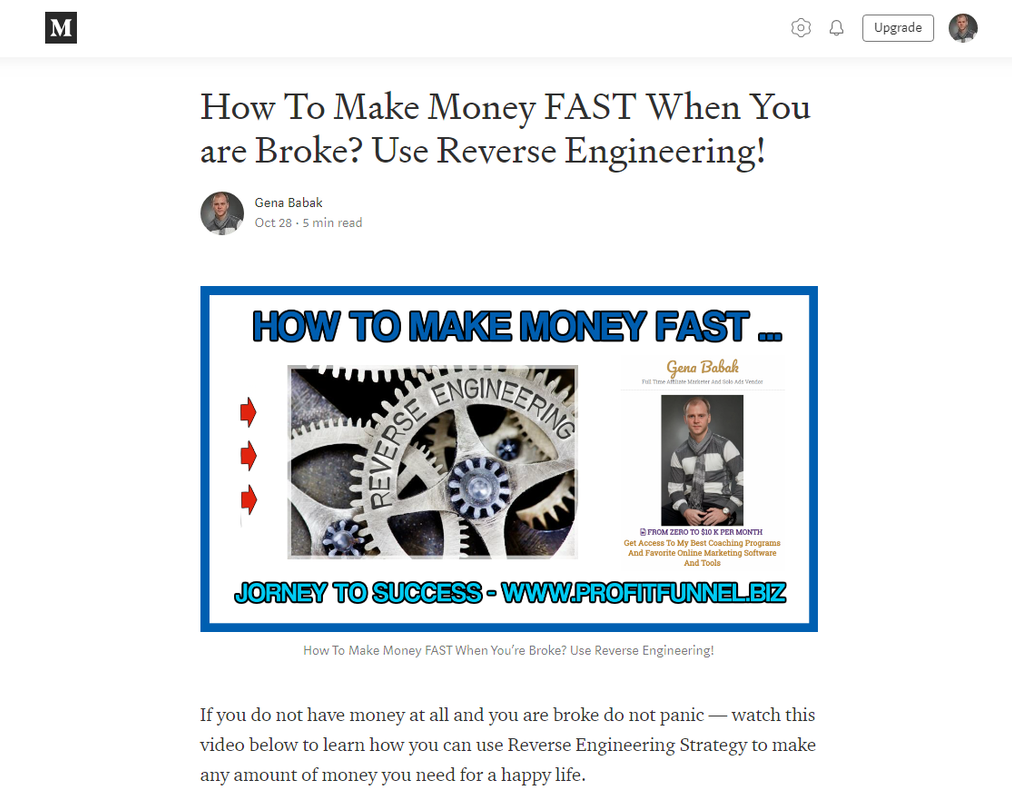 I also recommend to you not only your own personal wordpress blog but also use MEDIUM to post your new articles as well