How to get free traffic from Pinterest |Increase website traffic
Read this article to get step by step instructions on how to get free traffic from Pinterest and Increase website traffic Ferrari fast!
Use Pinterest as your Leads and Income Machine!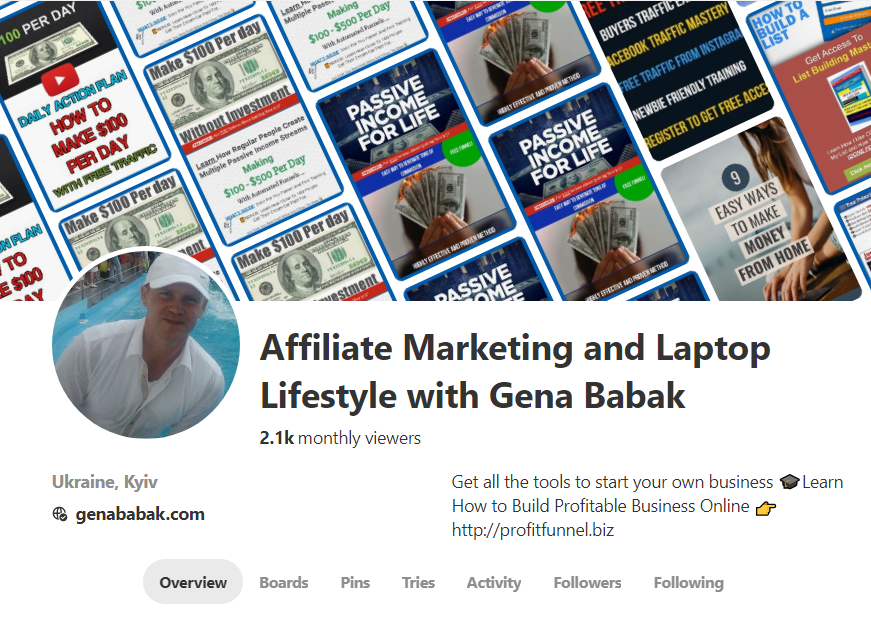 We will use Pinterest to drive free traffic to any offer we want and do it 24/7 and on autopilot. Pinterest can give you thousands of visitors for your blog or and affiliate offer you promote. So let us start.
Why use Pinterest to drive traffic? Did you know that Pinterest works as a search engine?
This is why:
1. Pinterest has 200 million monthly users
2. 93 % of active Pinterest users USE PINTEREST TO PLAN PURCHASES
3. 40 % of Pinterest users have a household income of $100k+
4. +40 % growth in active Pinterest users year-on-year…
Ready to rock and roll?
Setting Up your System
Now just follow the steps to set up your free traffic system
STEP 1. CREATE YOUR PINTEREST BUSINESS ACCOUNT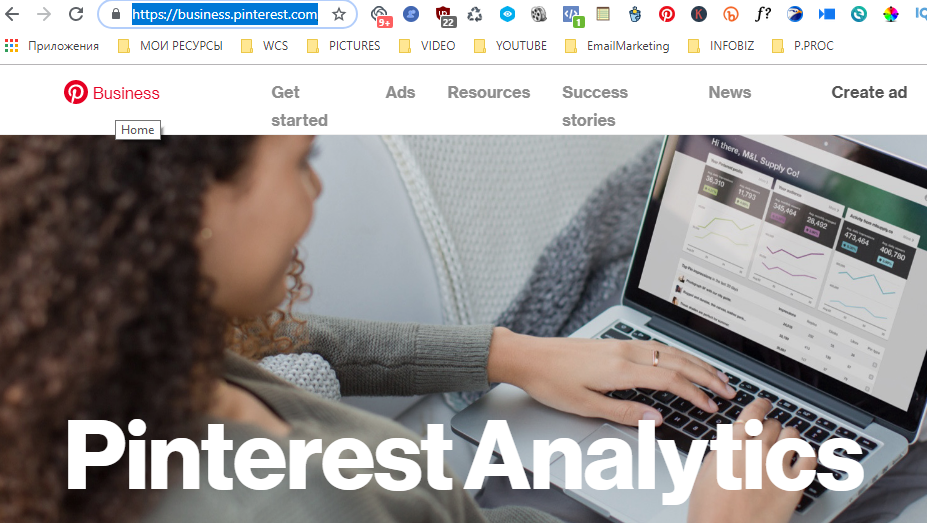 Click this link to create your Pinterest Business account (its free).
STEP 2. CREATE YOUR FIRST BOARDS AND PINS
Now you may start creating your boards and first pins. You need to create around 10 Boards related to your NICHE.
Grow Faster Together with Tailwind Tribes!
What is a TRIBE? Well, a Tribe is a group of like-minded marketers who help each other discover the best new content for their audience all while amplifying the reach of each other's content.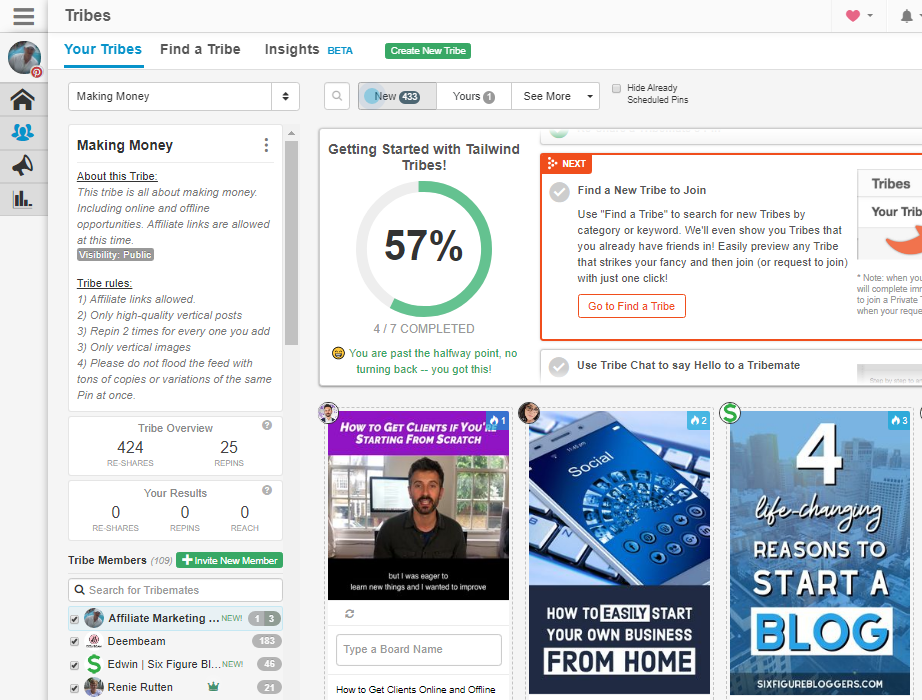 Anybody can create a Tailwind TRIBE and TRIBE is centered around individual topics. When you join a Tribe related to your niche you can expect to quickly find highly relevant content that you can share directly with your audience. You can also expect your content to be shared by other Tribe members – so you may expect viral traffic!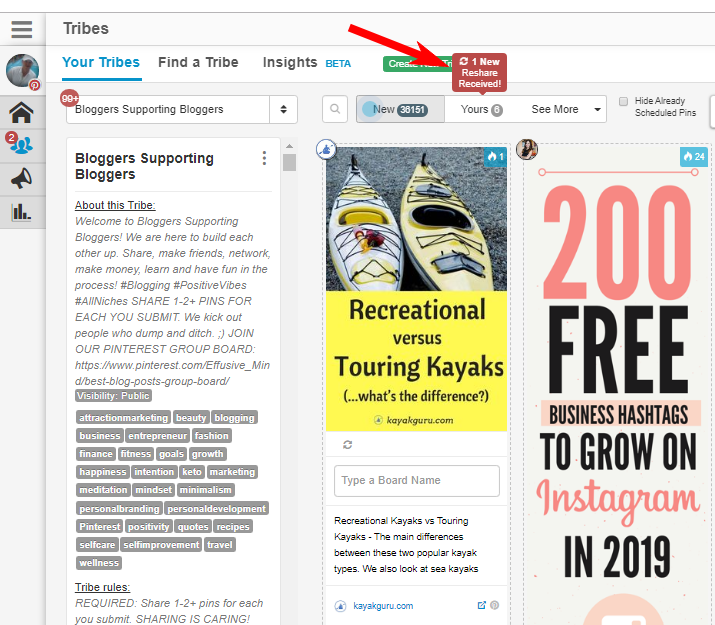 When you share other member pins they will share your pins as well – this is how you can get a lot of traffic to any of your website posts, pages and any affiliate offer you promote.
HOW TO FIND NEW TRIBEs FOR YOUR NICHE?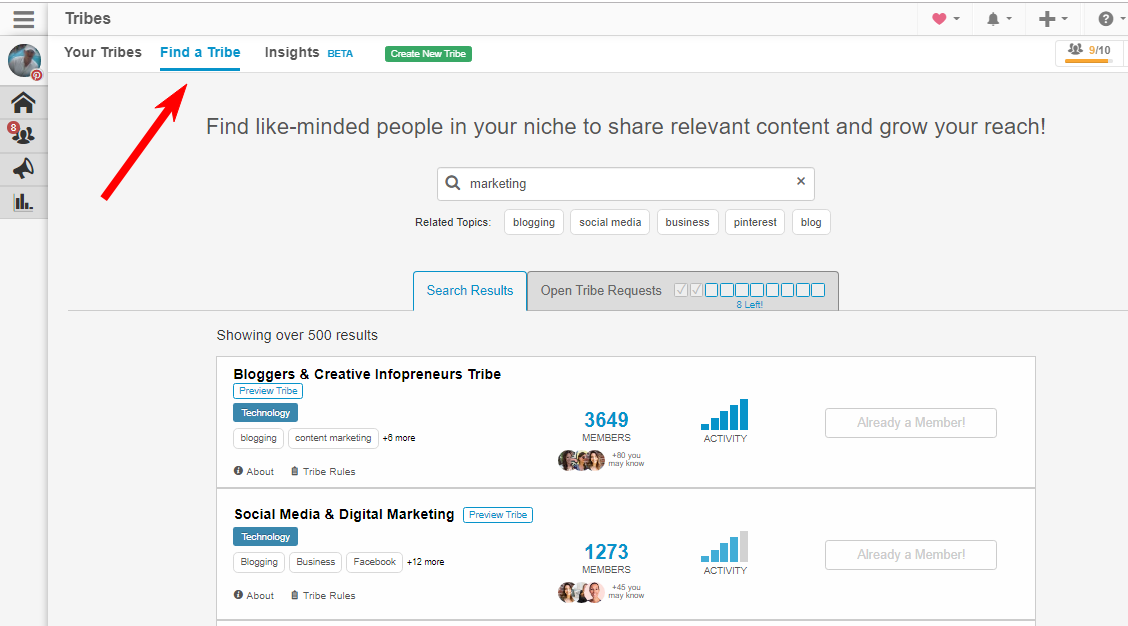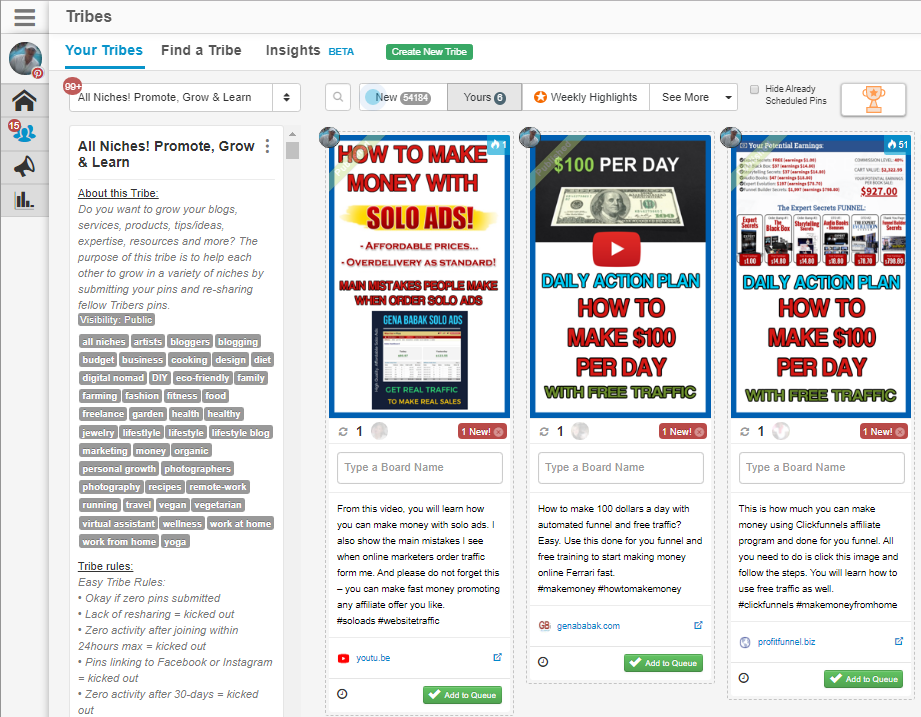 Click this link to find TRIBs related to your niche – just use keywords.
JOIN PINTEREST GROUP BOARDS!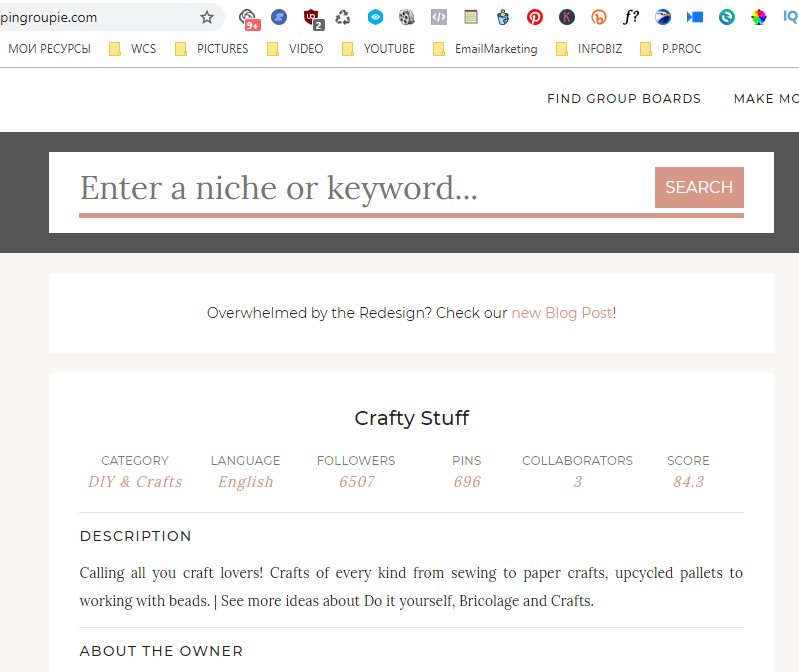 Use https://pingroupie.com/ to find your niche related groups using keywords.
Keywords for make money online groups:
– Affiliate marketing
– Work From Home
– Home Business
– Make money
– Millionaire Mindset | Life …
– Earn Money Online
– Finance

Make money with Tailwind Affiliate Program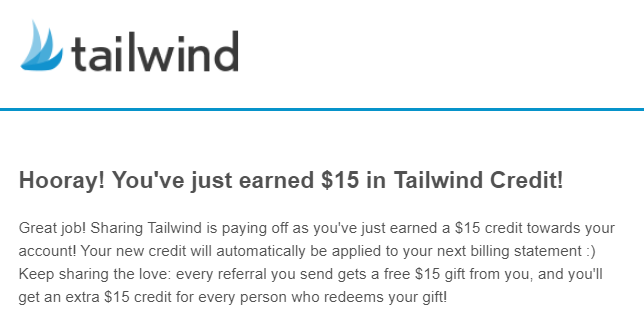 You can get Tailwind for free and even start making recurring monthly commissions just sharing your Tailwind affiliate link with your friends.
LEARN HOW YOU CAN START MAKING AT LEAST $100 PER DAY
USE PROFIT FUNNEL TO CREATE YOUR DREAM LIFESTYLE!