How To Build an Email List Faster using CPA Funnel for Email List Building
How to build your Email List Faster?
Read this article and watch the video to learn how To Build an Email List Faster using CPA Funnel for Email List Building
GET MY LIST BUILDING FUNNEL

Click this link below to get this funnel for free: ➡️http://bit.ly/listbuildingmasteryfunnel
★ Subscribe to my YouTube Channel for more★ ➡️https://www.youtube.com/channel/UCF11… ★★Click this link below to Ad me on Facebook and get Free Access to my Best Passive Income Strategies (login to your Facebook first): ➡️https://m.me/794927177374415?ref=onli… ★★★ Need Traffic? Looking for High Quality, Affordable Solo Ads that get results: ➡️http://genababak.com/soloads ★★★★ Follow this link to get FREE access my best Affiliate Marketing Strategies: ➡️https://genababak.com/bestfunnels/
This is one of the best Clickfunnels Strategies to build your Email List Fats in 2019. Watch this video to learn how to you can Build your Email List Fast using paid traffic and self-liquidating funnel. And you will make a lot of money during the process as well! The real way how you can make money 💲💲💲 online is building your List and promoting different affiliate offers to your subscribers. The fastest way how you can build your Email List is by using Paid traffic. WHAT IS CALLED SELF-LIQUIDATING FUNNEL? Self-liquidating Funnel allows you to make money during the process of building your list with paid traffic. The idea is – what if you pay 💲100 to collect 30 new leads to your Email List and at the same time you make 💲120 or 💲250 .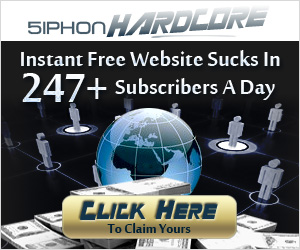 ⚠️ Self-liquidating funnels – is one of the biggest secrets when it comes to building a big Email List. Self Liquidating Funnel – the whole point of SLF is to make as much money on the front at the beginning of your Sales Funnel as humanly possible. The is $300 example: 1/ You buy your traffic 2/ You send traffic to your Sales Funnel Squeeze Page to collect emails. 3/ Usually you get maximum 40 % conversion = 84 leads 4/ You send 60 % to an exit Squeeze Page offering CPA offer and get reword up to $1 for every registration 5/ On second step after first squeeze page you offer (using ClcikMagick ROTATOR) different CPA offers. 6/ Follow up emails after subscription… Now if you do it right – you have a FREE EMAIL LIST growing as fast as you want! ================================================= Connect with me on Facebook: ➡️https://www.facebook.com/gennadii.babak Email:gennadiibabak@gmail.com Skype: gennadiy3881 =================================================== Disclaimer: This description contains affiliate links, when you sign up using an affiliate link, I earn a small commission. This comes directly from the company and does not affect you in anyway. These affiliate links allow me to continue to post free content on YouTube. Earnings Disclaimer: My earnings are a result of hard work and dedication, these results are not typical. You Results can be more or less. I can not guarantee anything.
https://docs.google.com/document/d/e/2PACX-1vS_TjAOyd1jt9s6H4BLTFPBgdUU8byX4kBR2bJI7dg7YgPz5yyB6GwKQZG3UItsvS3L7mhByBOHskQk/pub